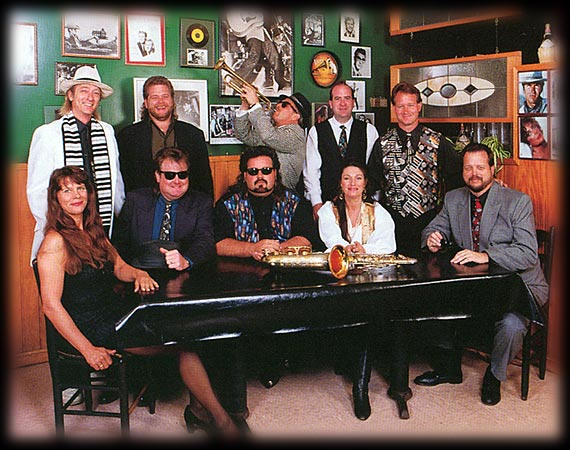 Founded by singer, trumpet player, and performer Larry Gordon and singer
Susan Moller, Not Tonight, I've Got The Blues Band is comprised of highly polished,
professionally seasoned studio musicians. Their special blend of Rhythm and Blues,
Rock 'n Roll, Jazz, and original material make for an exciting and enjoyable listening
experience for all age groups. They have been packing clubs and concert halls since
their inception, while continuing to upgrade and refine not only their music, but their
energetic stage show. To attest to their continuing professional success, the group
was awarded the prestigious Performing Arts Award for "Excellence in Soul Music"
two years in a row. Not Tonight I've Got The Blues Band's highly
diversified repertoire and high energy show is sure to provide the kind of
entertainment that will last in the memories of all who attend.
Eric Bedenbaugh:
Drums & Percussion
David Dobson:
Acoustic & Electric Guitars
Larry Gordon:
Trumpet, Trombone, Flugelhorn,
Harmonica & Vocals
David Lee:
Bass Guitar
Carol Bristow:
Vocals
Carol Kelly:
Vocals
Don Miniard:
Keyboards, Sax & Vocals
Special Guests
Jim Graves:
Guitar
Randall Hall:
Guitar
Rob Chapman:
Alto, Baritone & Tenor Sax
Robbie Chapman:
Alto, Baritone & Tenor Sax
Jimmy Jordon:
Trumpet
Joe Trunzo:
Alto, Baritone & Tenor Sax